This page highlights some of the most significant geoscience research and technical papers related to the ShakeAlert® System.
Revised technical implementation plan for the ShakeAlert® system—An earthquake early warning system for the West Coast of the United States
Given, D.D., Allen, R.M., Baltay, A.S., Bodin, P., Cochran, E.S., Creager, K., de Groot, R.M., Gee, L.S., Hauksson, E., Heaton, T.H., Hellweg, M., Murray, J.R., Thomas, V.I., Toomey, D., and Yelin, T.S.
The U.S. Geological Survey (USGS), along with partner organizations, has developed an earthquake early warning (EEW) system called ShakeAlert for the highest risk areas of the United States: namely, California, Oregon, and Washington. The purpose of the system is to reduce the impact of earthquakes and save lives and property by providing alerts to institutional users and the public.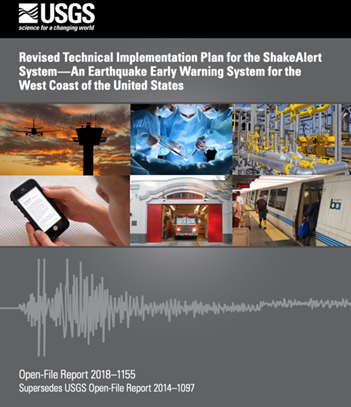 Expected Warning Times from the ShakeAlert Earthquake Early Warning System for Earthquakes in the Pacific Northwest
McGuire, J.J., Smith, D.E., Frankel, A.D., Wirth, E.A., McBride, S.K., and de Groot, R.M.
The ShakeAlert earthquake early warning system has been live since October 2019 for the testing of public alerting to mobile devices in California and will soon begin testing this modality in Oregon and Washington. The Pacific Northwest presents new challenges and opportunities for ShakeAlert owing to the different types of earthquakes that occur in the Cascadia subduction zone. Many locations in the Pacific Northwest are expected to experience shaking from shallow crustal earthquakes (similar to those in California), earthquakes that occur deep within the subducted slab, and large megathrust earthquakes that occur primarily offshore.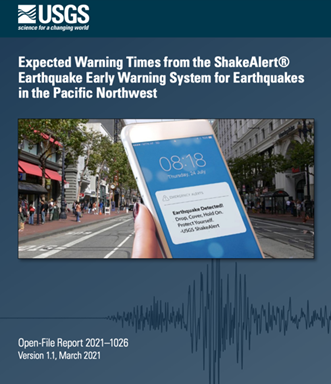 Earthquake early warning ShakeAlert 2.0: Public rollout
Monica Kohler, Deborah E. Smith, Jennifer Andrews, Angela I. Chung, Renate Hartog, Ivan Henson, Douglas D. Given, Robert Michael de Groot, and Stephen Robert Guiwits
The ShakeAlert Earthquake Early Warning System is designed to automatically identify and characterize the initiation and rupture evolution of large earthquakes, estimate the intensity of ground shaking that will result, and deliver alerts to people and systems that may experience shaking, prior to the occurrence of shaking at their location. It is configured to issue alerts to locations within the West Coast of the U.S. In 2018, ShakeAlert 2.0 went live in a regional public test in the first phase of a general public rollout.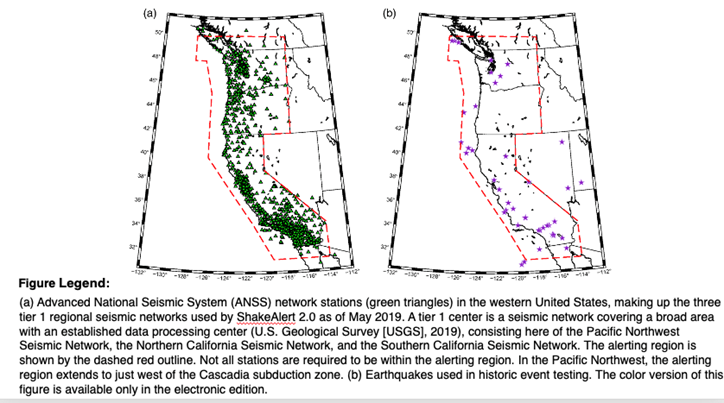 Latency and Geofence Testing of Wireless Emergency Alerts Intended for the ShakeAlert Earthquake Early Warning System for the West Coast of the United States of America
Sara K. McBride, Danielle F. Sumy, Andrea L. Llenos, Grace A. Parker, Jeffrey McGuire, Jessie K. Saunders, Men-Andrin Meier, Pascal Schuback, Douglas Given, and Robert de Groot
The ShakeAlert system uses, among other public alerting platforms like a mobile phone operating system, smartphone apps, and the Federal Emergency Management Agency Integrated Public Alert & Warning System (IPAWS). However, little is known about the IPAWS delivery latencies. Given that people may have only a few seconds of notice after they receive an alert to take a protective action before they feel earthquake shaking, quantifying latencies is critical to understanding whether the IPAWS system is useful for EEW. In this study, we developed new methods to test the IPAWS distribution system's performance, both with devices in a controlled environment and as well as with a 2019 community-based feedback form, in Oakland and San Diego County, California, respectively.